Dedicated to 19th Century Photography Research
Over the years PhotoTree.com has been committed to collecting, documenting, and preserving 19th century photographs. This was primarily driven by genealogical research and the love of photography.
We still are collecting, but now we're also dedicated to passing on the vast amount of knowledge and information we have collected, organized, and studied.
Armed with a large collection of 19th century photographs; diligent study in libraries, universities, and museums; and assemblage of a vast collection of historical data, we can provide easy-to-use and substantiated guidance to dating 19th century photographs. These are not just opinions, but information and guidance backed up by demonstrable evidence.
Of special note, PhotoTree.com owns all the photographs displayed on this site. The images shown are from original scans or camera copies of those photographs.
As a lifelong camera enthusiast, professional photographer, and graphics designer, I am the proprietor of PhotoTree.com. You will see me at genealogy conferences this year, presenting classes, and demonstrating even more technological tools to help determine the date of old photographs.
Until we meet, please enjoy the photographs here and your own.
Gary Clark
1894 Cabinet Card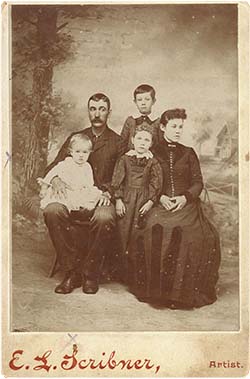 Cabinet card of my great-grand parents with my grandfather being the boy in the back. Probably taken in Sumner County, Kansas. The youngest child in the picture was his brother Earl, born March, 1893. So the picture is probably around the first of 1894.