What Was the Real Cost of Your Ancestors' Photos?
Early photographs were very expensive; mostly due to high material costs, and few photographers with the required expertise.
For example, the daguerreotype, announced publicly in 1839, was a copper sheet, plated with silver, polished meticulously, then processed with a variety of chemicals. All of that even before the picture was taken.
Successive processes including the ambrotype, tintype, then paper photographs brought the price of a photograph down dramatically.
Economics of our Ancestors
The price of a photograph is part of our ancestor's economics. Many of us wonder why we do not have photographs of some ancestors. There may be many reasons: Photographs were passed to other branches of your tree, or the photos were lost or destroyed by natural disasters or fires. However, an overall reason for lack of photos may be the scarcity of them in the first place.
Many people, and certainly the pioneers of the 19th century lived off what they could produce from the land. Actual currency may have been very scarce for them. A frivolous photograph purchase would not take precedent over a bag of flour or beans to help feed the family. The ten dollar bill may have repesented months of expenses.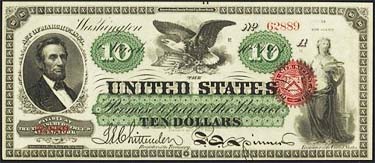 Published Photograph Prices
Photo prices from the 1800s are easy to track. They were advertised in newspapers, broadsides, and even on the back of the photographs themselves. PhotoTree has many examples of these, and shares the present value with you.
1860 Half Dollar.

This would have bought 10 gem tintypes or 2 carte de visites in the mid-1860s.
We have manually calculated our own present-day costs with cost-of-living indexes from various sources. Much to our delight, a website called Measuring Worth provides a handy calculator that allows you to enter an Initial Year, Initial Amount, and Desired Year; it then will calculate the present value of the initial amount. We have checked their calculated results against other indexes and the results are in a plausible range.
In addition to this simple calculator, the website has a wealth of information about historical costs, plus a calculator for the U.K. While much of it will appeal to the economist or accountants among you, it is written and presented in a very useful manner for all of us.
Measuring Worth - A Neat Historical Tool
This web site allows you to specify a year in the past, a prices, and then it will calculate present-day value.
Measuring Worth: www.measuringworth.com/uscompare